Announcements : 2018 NCP Funding Announcement
Announcement: T2, 2018 NCP Funding Announcement
New Colombo Plan funding available to study in Asia Trimester 2 2018, grants up to $8,000.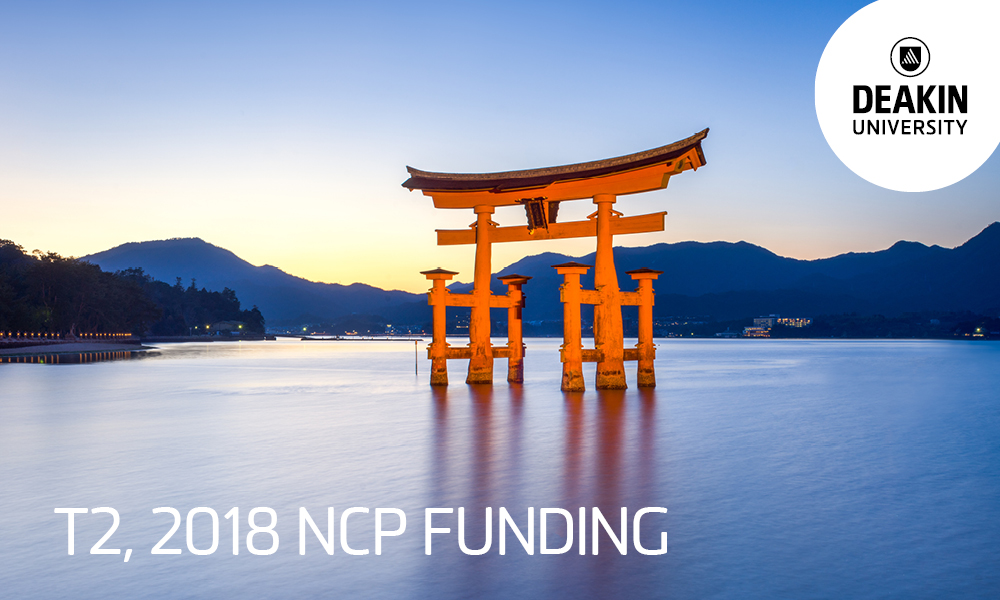 New Colombo Plan Funding Trimester 2, 2018
Deakin University has been awarded over $300,000 in grant funding to support students to complete part of their degree overseas, as part of the Federal Government's New Colombo Plan.

The New Colombo Plan is intended to be transformational, deepening Australia's relationships in the region, both at the individual level and through expanding university, business and other links. Over time, the Australian Government wants to see study in the Indo-Pacific region become a rite of passage for Australian undergraduate students, and as an endeavour that is highly valued across the Australian community.

Deakin Abroad have received New Colombo Grants to the Universities listed below.
To enquire please email education-abroad@deakin.edu.au
| Host University | Country | Funding |
| --- | --- | --- |
| Peking University | China | 3 x $8,000 New Colombo Plan Grants |
| University of Hong Kong | Hong Kong | 4 x $8,000 New Colombo Plan Grants |
| Tokyo International University | Japan | 3 x $8,000 New Colombo Plan Grants |
| Sophia University | Japan | 5 x $8,000 New Colombo Plan Grants |
| Musashi University | Japan | 5 x $8,000 New Colombo Plan Grants |
| Doshisha University | Japan | 3 x $8,000 New Colombo Plan Grants |
| UCSI Malaysia | Malaysia | 4 x $8,000 New Colombo Plan Grants |
| Ewha Women's University | South Korea | 5 x $8,000 New Colombo Plan Grants |
| Hanyang University | South Korea | 5 x $8,000 New Colombo Plan Grants |
| NCCU Taiwan | Taiwan | 4 x $8,000 New Colombo Plan Grants |
| Mahidol University | Thailand | 4 x $8,000 New Colombo Plan Grants |
| Chulalongkorn University | Thailand | 3 x $7,000 New Colombo Plan Grants |